Find appropriate protection with a team that understands you.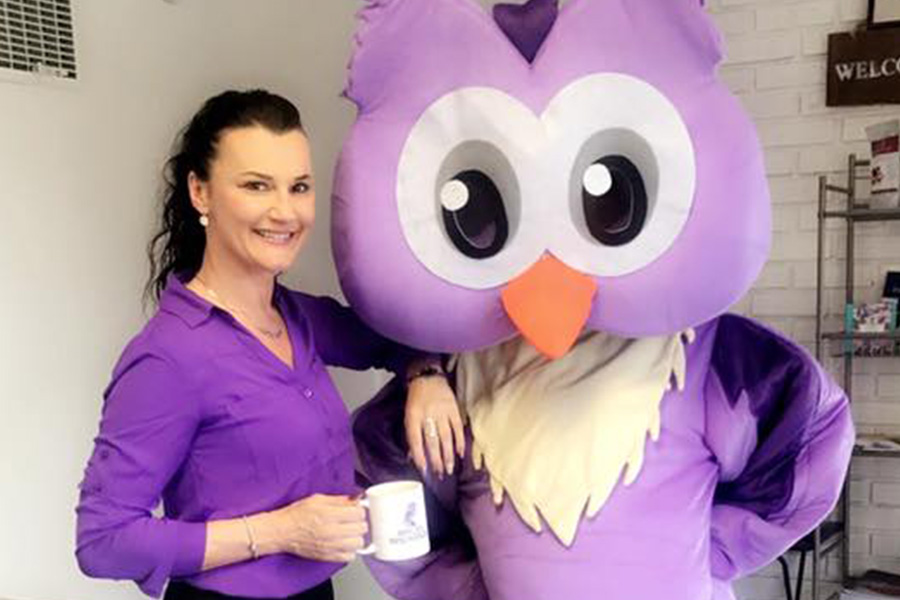 Arica's Insurance
A local, woman-owned and operated agency in Columbia County, NY.
At Arica's Insurance, we serve clients with the utmost integrity and loyalty to our clients, our local community, and beyond. Our positive attitude and philosophy carry into relationships with our clients and our insurance partners. When that experience of providing the appropriate individual policy meets customer needs, a relationship is established that is mutually beneficial, stable, and long-lasting.
We believe in giving our clients an insurance experience they can depend on for their business and their family. Our motto is to "insure wisely," as we believe in being strong and wise during catastrophic events making it a priority to ensure our clients are being taken care of personally, and professionally all while protecting you from the inherent risks of life.
Read more about us!
Owl Significance
At Arica's Insurance, we are a woman-owned agency that believes in the power of wisdom, hence our motto, "insure wisely." Athena, the wise owl, originates from the Greek goddess of wisdom, war, and strength. Our inspiration of being strong and wise during war/catastrophic events originated based on goddess Athena and her wise owl. Arica's Insurance is proud to have this mascot represent its agency and the vision that it was founded upon.
Owl you need is to insure wisely.
A Suite of Solutions for Your Ultimate Protection
Everything will be owlright. Insure wisely.

Columbia County's Only Erie Insurance Agency
At Arica's Insurance, we strive to uphold Erie Insurance's long-standing commitment to service.
Click it. Read it. Cover it.
Get a glimpse of the risks you face and how your insurance can protect what matters most.
Errors and Omissions Insurance (E&O)
Risk Factor
Property management firms have many exposures that can lead to a lawsuit. Dealing with boards of directors, owners, residents, employees, vendors, and regulatory authorities can and often does lead to lawsuits.
Solution
Errors and omissions liability insurance protects property management firms if a client alleges that you were professionally negligent or failed to perform professional duties.
Commercial Property Insurance
Risk Factor
Property management firms may face serious financial consequences from property loss by fire, wind or other causes.
Solution
A business owners policy (BOP) or package policy providing commercial property insurance will provide coverage for damage to a building you own, along with coverage for personal property and income lost due to a covered cause of loss.
General Liability
Risk Factor
Property management firms can be sued for injuries or property damage at their office and sometimes at the properties they manage.
Solution
General liability insurance is an absolute necessity for any property management firm. It provides coverage for legal fees and judgments when the firm is named in a covered lawsuit for bodily injury, property damage, associated medical costs, and more.
Crime and Fidelity Coverage
Risk Factor
As a property management firm, you have access to your clients' money. Illegal activity such as forgery or theft can occur.
Solution
Crime and fidelity coverage is designed to provide coverage for theft of not only money and personal property owned by the firm, but money that the firm has in their custody for their clients.
Cyber Liability Insurance
Risk Factor
Property management firms have exposures including the need for protection of privacy, data and financial information for their clients. Breach of data can result in costly fees and lawsuits for the association if held liable.
Solution
Cyber liability coverage covers fees and lawsuits resulting from the breach of personal data in the event your firm is liable.
Hired and Non-Owned Auto Liability Insurance
Risk Factor
Property managers must drive to the sites they manage regularly. Accidents can and do happen. If an employee were to get into an auto accident while working, the management firm could be named in a suit by the injured party.
Solution
If any automobiles are owned by the property management firm, a commercial auto insurance policy should be obtained. In addition, hired and non-owned auto liability should be maintained in any case to provide coverage in the event an employee gets into an accident while using their own car.
Property Manager Insurance
Make sure you cover the unique risks you face with property manager insurance.
Click on the hotspots.

Discover your risks.

Get the right coverage.
What Makes Arica's Insurance Special
Here's what sets us apart when it comes to serving your insurance needs.
About Our Agency
Woman-Owned and Operated
We are proud to be a woman-owned and operated property casualty independent agency in Columbia County, NY.
Strong, Reliable Relationships
We believe in giving our clients an insurance experience they can depend on for their family and their business.
Solid Industry Expertise
We have over 20 years of combined industry experience in offering solutions for business and personal risks.
The Advantage of an Independent Agency Working for You
What makes our independent agency different?
We are by your side every step of the way.
We offer a wide variety of insurance solutions.
We are there for you in your time of need.
Find Out How
Here's what makes us great.
"Arica and her team run an extremely professional outfit and will go the extra mile for their customers. They will always look out for their customers, and if you run into a problem, they will have your back. Their service goes well above and beyond."
– BPC Services
Read More Reviews
  Contact Arica's Insurance
As an independent agency, we are here to help you find the right coverage.
209 Fairview Avenue
Hudson, NY 12534
Proud to extend service across the Greater Hudson Valley, New York state, and clients nationwide.
Contact Us